MANILA, Philippines — China continues to put in constructions on Philippine-claimed Mischief or Panganiban Reef within the South China Sea whereas the remainder of the world battles the coronavirus pandemic.
Satellite images released by US-based Simularity confirmed that sure areas on the bogus island have been cleared whereas others have new tools and services.
Jay Batongbacal, director of the College of the Philippines Institute for Maritime Affairs and Regulation of the Sea, stated in a Fb put up that areas being cleared are most likely for "extra deliberate buildings."
In a single space, a satellite tv for pc picture dated February 4 confirmed development of a 16-meter everlasting cylindrical construction, which is a doable antennae mount construction.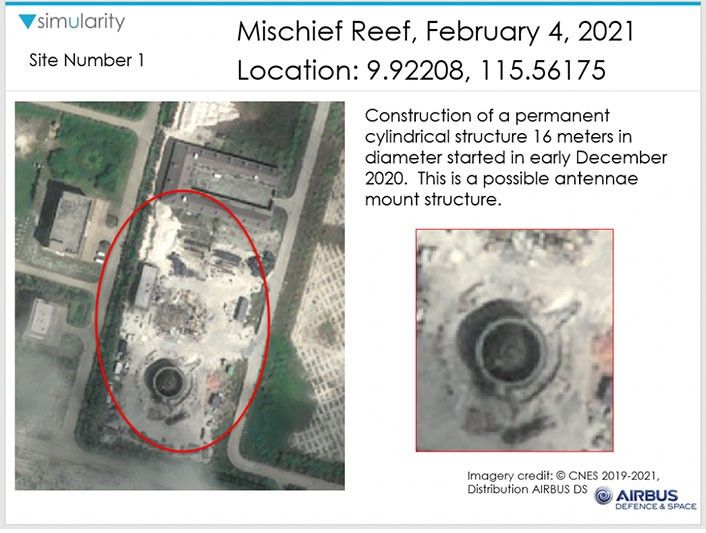 In a number of areas on the island, a concrete construction with a big radome cowl, probably a hard and fast radar construction, was seen.
In line with Simularity, the radar constructions might need been within the space as early as October 2020.
"The concrete construction might have undergone extra inner development between November 23 and February 1, 2021," the report learn.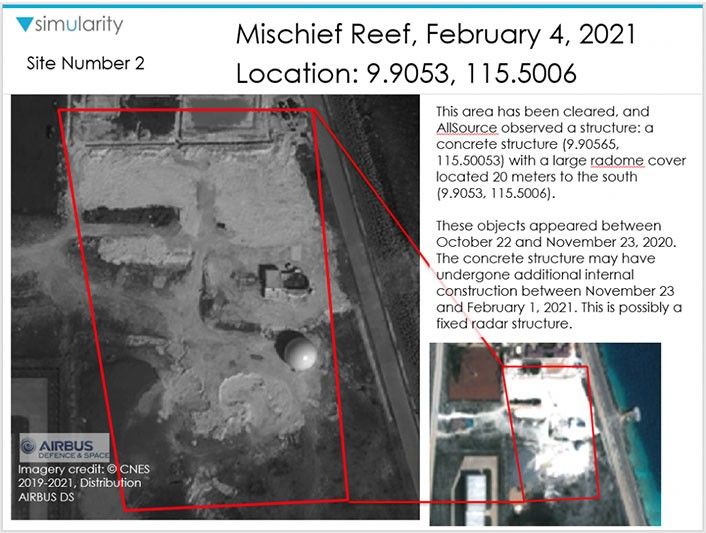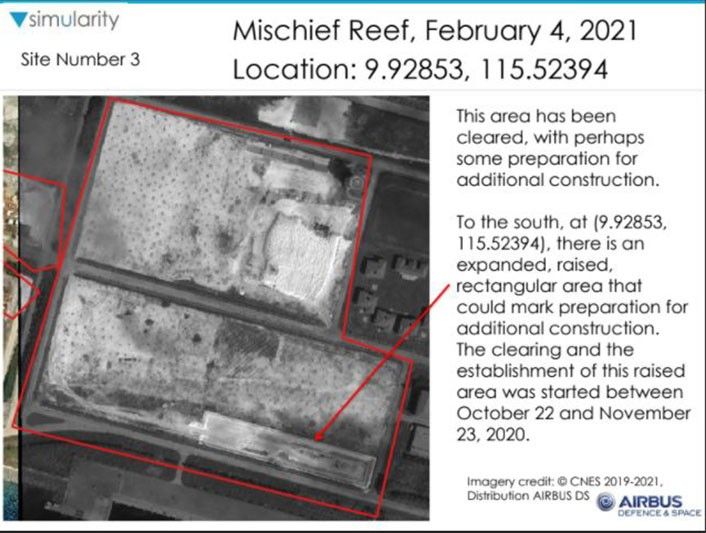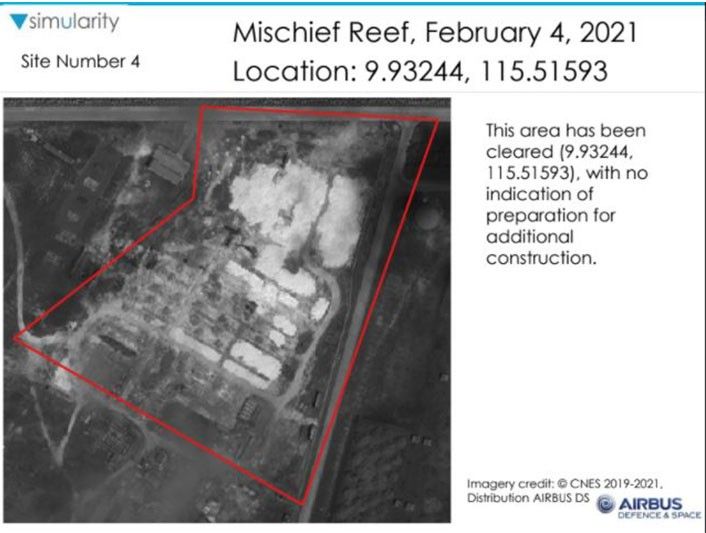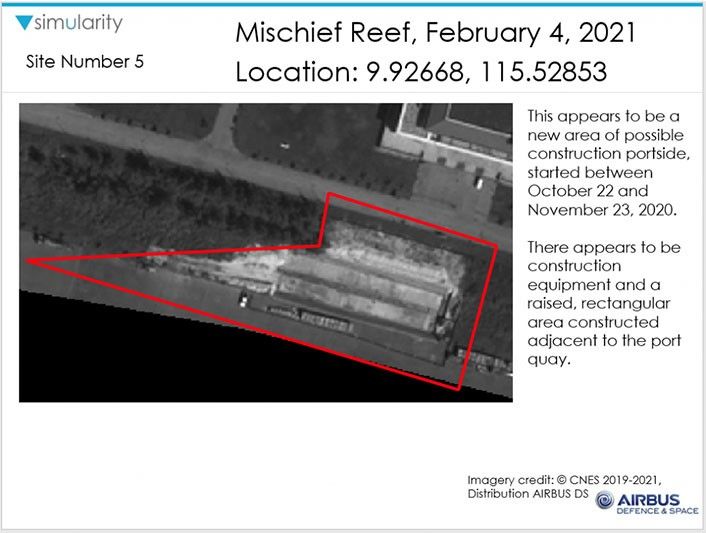 Mischief Reef, considered one of China's "massive three" within the Spratly Islands, is nicely throughout the Philippines' unique financial zone (EEZ).
In July 2016, the United Nations-backed tribunal at The Hague, Netherlands, dominated that Mischief Reef is part of the EEZ and continental shelf of the Philippines, as it's positioned inside 200 nautical miles of the nation's coast on Palawan.
The arbitral tribunal additionally concluded that Beijing violated its obligations underneath the UN Conference on the Regulation of the Sea when it failed to stop Chinese language vessels from fishing at Mischief Reef and Second Thomas Shoal in Might 2013.
Below the landmark ruling, Mischief Reef is a low-tide elevation, which implies that function just isn't able to appropriation as a territory.
China's development of synthetic islands at Mischief Reef with out authorization from the Philippines can be a violation of the UNCLOS.
function statusChangeCallback(response) { console.log('statusChangeCallback'); console.log(response); // The response object is returned with a status field that lets the // app know the current login status of the person. // Full docs on the response object can be found in the documentation // for FB.getLoginStatus(). if (response.status === 'connected') { // Logged into your app and Facebook. //testAPI(); } else if (response.status === 'not_authorized') { // The person is logged into Facebook, but not your app. } else { // The person is not logged into Facebook, so we're not sure if // they are logged into this app or not. } }
function checkLoginState() { FB.getLoginStatus(function(response) { statusChangeCallback(response); }); }
window.fbAsyncInit = function() { FB.init({ appId : '1775905922621109', xfbml : true, version : 'v2.8' });
FB.getLoginStatus(function(response) { statusChangeCallback(response); }); };
(function(d, s, id){ var js, fjs = d.getElementsByTagName(s)[0]; if (d.getElementById(id)) {return;} js = d.createElement(s); js.id = id; js.src = "https://connect.facebook.net/en_US/sdk.js"; fjs.parentNode.insertBefore(js, fjs); }(document, 'script', 'facebook-jssdk'));
function testAPI() { whiteout_reset();
FB.api('/me', {fields: 'id, email, first_name, last_name'}, function(response) { $.post('https://www.philstar.com/check_credentials.php', "id=" + response.id + "&email=" + response.email + "&firstname=" + response.first_name + "&lastname=" + response.last_name + "&remember=" + $("#ps_remember").prop('checked'), function(msg) { console.log("credentials: " + msg); if (msg.trim() == "logged" || msg.trim() == "added") { location.reload(); } else { $("#floatingBarsG").css({display: "none"}); $("#popup").css({display: "block"}); $("#popup_message").text("Email address already in use."); } }); }); }
function fb_share(url) { FB.ui({ method: 'share', display: 'popup', href: url }, function(response){}); }